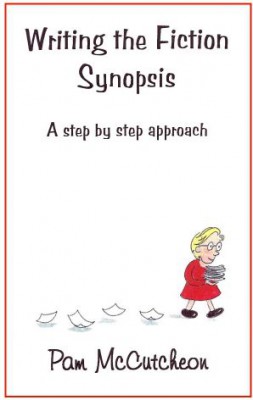 Walk through the process of writing a synopsis of your book, from targeting your market, to adding tone, to tightening by choosing just the right words.   Learn how to write the synopsis to develop your book's theme, determine what elements of plot and character should be included, choose which method to use to begin your synopsis, and format it properly. 
About the Book
Click here to order from the publisher!
Using movies as examples, the author provides preliminary, plot development, character development, and story outline worksheets.  Learn how to complete the blank worksheets for your book, complete the checklist to ensure you have included the necessary elements in your synopsis, and study the long and short sample synopses provided for each movie discussed.
Reviews
"Bravo!  Pam McCutcheon has decoded the synopsis!  Writing the Fiction Synopsis is packed with useful information helpful to both the professional and novice writer.  I wish I'd had this informative book years ago.  Writing the Fiction Synopsis is a must-have tool for all writers.  Pam McCutcheon has given a writers a cure for the synopsis headache."
— Maggie Osborne
Award-winning author of more than 40 books
"I'd been to Pam McCutcheon's online workshop on synopsis and found it really helpful, so I bought this book, too.  (Watch out everyone, I'm going to gush.)  This is by far the best book I've ever seen on writing a synopsis!!  And like you and many others, I've gone nuts trying to get my synopsis to say what it needs to say in an interesting and concise way without making it a yawner.  I'm also one of those authors who writes a rough synopsis as a road map after I've written about 3 chapters of a book to keep me on track.  This book makes it so easy.  I have all three of the books at Gryphon along with a whole shelf full of reference books and I tell you, the Gryphon books blow the others away.  If you buy one book on writing a synopsis, buy this one."
— Lisa Mondello
Author
"After several years of classes and lectures on synopses, I was totally confused.  When Pam McCutcheon taught her method of writing the dreaded synopsis, it all came together and I hit the 'aha' response.    Ms. McCutcheon makes synopsis writing easy!  Every writer will benefit from this book." 
— Kathleen Wells, Ph.D.
Disclosure of Material Connection: Some of the links in the page above are "affiliate links." This means if you click on the link and purchase the item, I will receive an affiliate commission. I am disclosing this in accordance with the Federal Trade Commission's
16 CFR, Part 255
: "Guides Concerning the Use of Endorsements and Testimonials in Advertising."