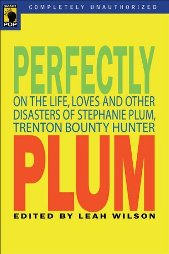 Unauthorized Essays on the Life, Loves and Other Disasters of Stephanie Plum, Trenton Bounty Hunter
About the Book
I was asked to write an essay for the popular culture book from BenBella. Since Janet Evanovich is one of my favorite authors, this was a lot of fun! My essay is titled "Stephanie Plum's Trenton: A Great Place for the Family?"
From the back cover:
Speculating about the cultural metaphors in Janet Evanovich's wildly popular mystery series (which includes 11 books, from One for the Money to Eleven on Top), this anthology takes a look at lingerie-buyer-turned-bounty-hunter Stephanie Plum and catalogs her bad luck with cars (she's blown up quite a few), her good luck with men, her unorthodox approach to weapon storage, and the rich tapestry of her milieu: Trenton, New Jersey, also known as The Burg. The contributors praise the way the series smartly spoofs that familiar chick-lit epiphany—I have a bad job and what I really want is a good man!—in Bounty Hunting as a Metaphor for Dating, Why Stephanie Should Quit Her Job . . . but Never Will, and Nothing Better than a Bad Boy Gone Good. Several essays veer from the chick-lit perspective and focus instead on the comic theme of luck and chance that ties Stephanie to the barroom gamblers and gangster meanies of her home town in Luck of the Italian?: Skill versus Chance.
Disclosure of Material Connection: Some of the links in the page above are "affiliate links." This means if you click on the link and purchase the item, I will receive an affiliate commission. I am disclosing this in accordance with the Federal Trade Commission's
16 CFR, Part 255
: "Guides Concerning the Use of Endorsements and Testimonials in Advertising."