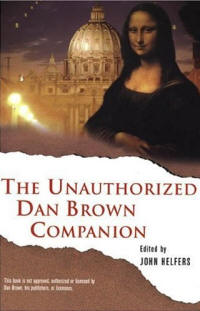 The definitive truth within Dan Brown's fantastic fiction—revealed at last. With millions of copies of his books in print, a major motion picture based on The Da Vinci Code in theaters, and religious leaders everywhere launching scathing attacks on his work, Dan Brown is, quite simply, a phenomenon. His novels, intricate mosaics combining well-researched facts with action-packed storytelling, have created their own industry of location tours, seminars—even PBS specials. But perhaps the one thing that still keeps his readers guessing is that nagging question: How much of this is true?
About the Book
Though the book was edited by John Helfers, I wrote almost 90% of the book in the concordance, "An A-Z Look at the World of Dan Brown's Novels."
It gave me the opportunity to research the facts in the first four of Dan Brown's books then write about them in the concordance. It was great fun and I learned a lot. I hope you will, too!
More from the back cover:
The Unauthorized Dan Brown Companion tells all. Unlike the avalanche of books specifically about The Da Vinci Code , The Unauthorized Dan Brown Companion covers all of Dan Brown's books and, crucially, has no religious agenda or political axe to grind—these are the facts.
• Could there actually be an unbreakable code that would cripple US intelligence, as in Digital Fortress?
• How much truth lies in The Da Vinci Code's history-altering propositions that have so angered the Vatican?
• Are the Illuminati from Angels and Demons really alive and well?
The answers are here, covering every picture, place, proper name, and historical event through all of Brown's books, explaining what's absolutely true, possible, improbable, or completely fictitious.
One of Dan Brown's greatest accomplishments as a writer is his uncanny ability to blur the line between fact and fiction. Now, with The Unauthorized Dan Brown Companion, readers will at last have all of the information to distinguish for themselves between the inventions of a master storyteller and the historical revelations of a first-rate investigator.
Disclosure of Material Connection: Some of the links in the page above are "affiliate links." This means if you click on the link and purchase the item, I will receive an affiliate commission. I am disclosing this in accordance with the Federal Trade Commission's
16 CFR, Part 255
: "Guides Concerning the Use of Endorsements and Testimonials in Advertising."