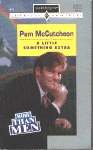 He Was No Mere Mortal! The handsome hunk who stood before P.J. Sheridan expected her to believe he was a leprechaun? She had one word for him: blarney! Only Connor O'Flaherty wove a magical spell about P.J. that stirred her deepest desires.
About the Book
The skeptic in her wiped the stardust from her eyes—and P.J. was convinced this man was nothing but a con artist. Deep down, though, the woman in her desperately wanted to believe Connor's powers were as potent—and as real—as his kisses. Yet no matter who—or what—he really was, common sense said the man was trouble.
"Whimsical, witty, warm and wonderful—don't miss this book!"—Barbara Bretton
Disclosure of Material Connection: Some of the links in the page above are "affiliate links." This means if you click on the link and purchase the item, I will receive an affiliate commission. I am disclosing this in accordance with the Federal Trade Commission's
16 CFR, Part 255
: "Guides Concerning the Use of Endorsements and Testimonials in Advertising."